Did you know that 3 former U.S. Presidents called Tennessee their home? It's true! The great state of Tennessee has a long history of political greatness.
Latest Tennessee Trivia News
Stewart County Tennessee Man Catches 90-.lb Catfish
12.05.2015 wkrn.com: Tyler Schmid almost spent Black Friday shopping with his wife, but instead, his buddy Dave took him fishing on the Cumberland River in Stewart County. Now he knows he made the right choice. After a mostly slow fishing day, Schmid hooked one of the largest fish ever caught in Tennessee. Read more here.
Over 10,000 "Christmas is All About Jesus" Signs To Go Up In Tennessee 12.02.2015 worldreligionnews.com: Pastors all over Tennessee have embarked on spreading the message that Jesus should be celebrated all throughout December. They have printed a large number of yard signs that proclaim "Christmas is all about Jesus," with the goal to distribute the signs across all 95 counties of Tennessee. Read more here.
Tennessee Native, Reese Witherspoon, Opens First Draper James Store in Nashville 10.22.2015 hollywoodreporter.com: Reese Witherspoon's first Draper James store is open, ya'll. The actress, who launched her Southern-inspired lifestyle line in May, announced Wednesday that her company's first brick-and-mortar is up and running Read more here.
Disappointing News Concerning New Tennessee Logo
05.22.2015 tntrivia.com: Here at Tennessee Trivia we are very disappointed in the new Tennessee State Logo. The removal of the beloved and familiar three star symbol of our state is a travesty and should be corrected. Read about this new change here.
Chickamauga Yields What May Be New Tennessee Record Largemouth
02.14.2015 flwoutdoors.com: DAYTON, Tenn. -- Friday the 13th was anything but unlucky for Gabe Keen of Caryville, Tenn., who caught a 15.20-pound largemouth bass out of Lake Chickamauga that figures to be Tennessee's new state record. Read more here.
Bible To Be Tennessee State Book?
2.13.2015 tennessean.com: Freshman Rep. Jerry Sexton wants to add the Bible to the state symbols of Tennessee. According to the Bean Station Republican's legislation, the Holy Bible would be "designated as the official state book." Read more here.
Denso To Add 400 Jobs In Athens, TN
01.29.2015 timesfreepress.com: ATHENS, Tenn. — Japanese automotive supplier Denso Manufacturing today unfurled an $85 million expansion to its plant here with plans to hire 400 more workers. Read more here.
Gun Maker Barretta Moves to Tennessee!
07.23.2014 Forbes.com: Beretta U.S.A. Corp., is leaving Accokeek, Maryland. Baretta announced they're moving to a new facility being built in Gallatin, Tennessee. This move will take 300 jobs out of Maryland. Read more here.
Knoxville, Tennessee Most Bible-Minded City in the U.S.
11.21.2013 barna.org: In a recent Barna research poll, Knoxville, TN was found to be the most "Bible-Minded City" in the United States. Other Tennessee cities that ranked in the top twenty were Chattanooga at number three, and Nashville at number fourteen. See the entire list here.
Three TN Cities Make National Geographic's 'Best Adventure Towns'
11.15.2013 adventure.nationalgeographic.com: Three Tennessee cities were featured on National Geographic's Top 100 'America's Adventure Towns.' The cities of Gatlinburg, Knoxville, and Nashville were chosen among the top cities in Tennessee for adventure. Read more here.
Tennessee Walking Men' wind down 1,000 mile trek across state
11.13.2013 millington.wmctv.com - With 1,000 miles deep into an adventure-driven trek across the Volunteer State, three friends continue a months-long walk along back roads in a collective pursuit to slow down and explore the different lifestyles and landscapes Tennessee offers. Named the Tennessee Walking Men, the three individuals set out on foot from Memphis in August to discover what it means to call Tennessee home while documenting their experience in a film. Read more here.
Lake City, TN to change name to Rocky Top, TN
11.11.2013 tennessean.com: Lake City, TN — Despite the famous bluegrass song, Rocky Top, Tenn., has never actually been home sweet home to anyone.It's not a town at all, but a rocky outcropping in the Great Smoky Mountains National Park, more than 5,400 feet high on the Appalachian Trail. Now, an East Tennessee county commissioner and a group of silent partners want to do something about that. Reasoning that the name Rocky Top has cachet, they are promising an impoverished town of 1,700 big things if the residents would be willing to change the town's name from Lake City to that of the song. Read more here.
Zagat Rates Nashville's Bella Napoli Pizzeria "Best in Tennessee"
11.06.2013 restaurantnews.com: Nashville, TN- A recent nationwide tasting-tour conducted by Zagat dubbed "Pizza Week" sampled pizzas throughout the 50 states in search of the best 50 pies. Bella Napoli Pizzeria's "Salsiccia" pie was awarded the honor of "Best Pie in Tennessee". Read more here.
Singer Kelly Clarkson Gets Married In Tennessee
10.21.2013 wbir.com: Kelly Clarkson is celebrating a big moment! The singer married singer married fiancé Brandon Blackstock Sunday, and she reported the happy news on Twitter Monday afternoon. Clarkson also shared an adorable picture of Blackstock planting a sweet kiss on her head. And she looks stunning in her long-sleeve lace wedding dress by Temperley (she tweeted thanks to the designer). The ceremony took place at Blackberry Farm in Walland, Tenn. Read more here.
-------------------------------------------------

Last updated: 12.05.2015
Question: What do Kenny Chesney, Shannen Doherty, and Davy Crockett have in common?
Answer: They were all born in Tennessee of course!
Kenny Chesney born in Knoxville, TN March 26, 1968.
Shannen Doherty born in Memphis, TN April 12th, 1971.
Davy Crockett born in Limestone, TN Aug 17th, 1786.
_________________________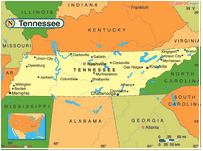 Click on map for larger image
____________________________

____________________________
Other Fun Trivia Links
Tennessee Census Information - According to the 2010 U.S. Census, there are 6,346,105 citizens in Tennessee!
Brother Byron's Musical Musings - the life of a Knoxville Baptist Music Minister.
Famous Tennesseans You may be surprised at who you find! Most complete list of famous Tennesseans on the entire web! UPDATED!
Tennessee's Wealthiest People See who's got all the money in our state!
Movie & TV Personalities from TN Actors, actresses, comedians etc.
Tennessee's 95 Counties - Alphabetical list of our state's counties with hyperlinks to the US Census Bureau's page for each county.
Charm of the Carolines - Don't let the name fool you! Great Tennessee blog with a wide variety of subjects..
________________________
Tennessee License Plate

Great Tennessee Links
Knox County, TN Genealogy & History: Terrific resource for folks studying Knox County.
Tennessee Legislature: Find out who your state Representative is and what laws are being worked on.
Historical Facts Link to Tennessee Blue Book.
DirectoryTennessee.com Directory of Tennessee offers a vast selection for finding our resource and information.
NASCAR in Tennessee Follow this link to Bristol Motor Speedway!
The Lost Sea Link to the worlds largest underground lake!
Dollywood - visit Dolly Parton's theme park!!!
______________
Tennessee State Flag Verbal Salute, from the TN Society of the Daughters of the American Revolution:
"Three white stars on a field of blue
God keep them strong and ever true
It is with pride and love that we
Salute the flag of Tennessee"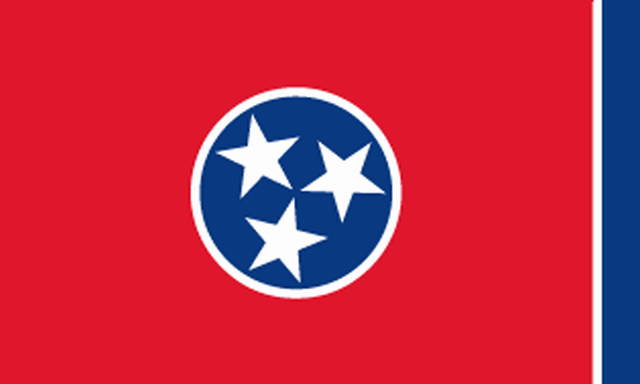 Tennessee Flag Information Here!
The Best BBQ in Tennessee, Sweet P's in Knoxville, TN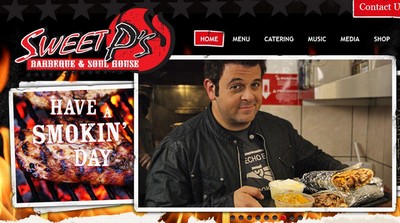 Kenny Pics NEW!