08.23.2012 Forbes.com: Even after 100-years of making dessert history as being the very first "combination candy bar," Goo-Goo Clusters are still going strong. Read more here.
Tennessee Ranks 10th Worst For Credit 08.14.2012 Cardratings.com: Tennessee ranks 10th worst state in the U.S. for credit conditions. The biggest contributing factor, according to Cardratings.com, is that Tennessee's bankruptcy state is 3rd worst in the nation. Read more here.
Lenoir City's Claire Donahue Going For Gold 07.28.2012 KnoxNews.com: Lenoir City's Claire Donahue propelled herself to the fifth-best time in Saturday night's semifinals of the 100-meter butterfly, advancing to today's finals and keeping her dream of winning an Olympic medal alive. Read more here.
Jimmy Haslam to buy Cleveland Browns? 07.27.2012 Forbes.com: Just as NFL training camps kick off, fans of the Cleveland Browns may need to brace for new ownership of their beleaguered local team. Owner Randy Lerner has acknowledged that he is "currently in negotiations" with Jimmy Haslam III for...read the rest of the story here.
Four Tennesseans Make Forbes 400 List 11.2011 Forbes Magazine: This year there were four Tennessee residents that made the 'Forbes 400' list of Richest People In America. Coming in at #117 Martha Ingram $3B, Nashville, TN book distribution. #130 Thomas Frist 2.8B Nashville, TN healthcare. #263 Brad Kelley 1.7B Franklin, TN tobacco. Also # 263 Frederick Smith 1.7B Memphis, TN FedEx. See the entire list here.
Blackberry Farm in Walland, TN, Chosen As Top Resort In U.S. 7.11.2011 Travel & Leisure Magazine: In their 2011 World's Best Awards, Travel & Leisure Magazine tapped Walland, Tennessee's, Blackberry Farm, as the top resort in the U.S. and Canada. Read the entire press release here.
Chattanooga Auctioneer Wins State Championship 12.6.2011 News Channel 9.com: Local Chattanooga Auctioneer Steven Holt wins the coveted title of 2012 Tennessee State Auctioneer Bid Calling Champion. The event was held in Nashville, Tennessee on December 4, 2011 and grades auctioneers on chant, rhythm, presence and auction ability. For decades this event has brought bid callers from every region of Tennessee to compete for the coveted title of top auctioneer. Read more here.
Tennessee Grows, But Population Rank Stands 9.27.2011 Memphis Business Journal: Tennessee remains the 17th most populous state, according to an analysis by On Numbers, a Memphis Business Journal affiliate. Read more here.
Trevor Bayne Goes Volcanic! 2.21.2011 knoxtrivia.com: A quick check of Google Trends reveals that our Knoxville NASCAR hero, Trevor Bayne, reached "Volcanic" hotness levels Sunday at...read more here.
Knoxville's Trevor Bayne Wins Daytona 500 2.20.2011 knoxnews.com: DAYTONA BEACH, Fla. -- Knoxville native Trevor Bayne became the youngest driver by five years to win the Daytona 500, as the just-turned 20-year-old crossed the finish line first today in a crash-filled race. Read more here.
Transformers Coming to Memphis 02.15.2011 mfrtech.com: Governor Bill Haslam and Commissioner Bill Hagerty of the Tennessee Department of Economic and Community Development today joined with Brian Heery, president and CEO of Mitsubishi Electric Power Products, Memphis Mayor A C Wharton and Shelby County Mayor Mark Luttrell to announce the company's decision to invest $200 million to build a production facility for electric transformers in the Rivergate Industrial Park in Memphis, Tennessee, creating up to 275 new jobs. Read more here.
2nd Annual East TN DanceSport Showdown 02.10.2011 -- National Dance Clubs of Knoxville (NDC), the longest running ballroom dance studio in Knoxville, today announced that it will host the East Tennessee DanceSport Showdown 2011. The competition is scheduled to take place on Saturday, February 19, 2011. Read more here.
Garth Brooks Concert Raises $5 Million For Flood Relief 02.09.2011 cfmt.org:
NASHVILLE, Tenn. – Gifts from the record-breaking Garth Brooks concert series at Bridgestone Arena, spearheaded by Brooks and Trisha Yearwood, total $5 million to support Tennessee flood recovery through The Community Foundation of Middle Tennessee. Read press release here (.pdf)
Memphis 6th Most Miserable City In U.S. 02.07.2011 forbes.com: Memphis, TN has once again been ranked in the top 20 most miserable cities in the U.S. by Forbes Magazine. This year the Bluff City ranks 6 on the list, which is down from last year's 2nd position. The number one most miserable was Stockton, CA. Many factors including; taxes, crime, and unemployment, play into the rankings. Read more here.
________________________
Tennessee State Flag Verbal Salute, from the TN Society of the Daughters of the American Revolution:
Three white stars on a field of blue
God keep them strong and ever true
It is with pride and love that we
Salute the flag of Tennessee.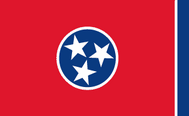 Tennessee State Flag Information Here!